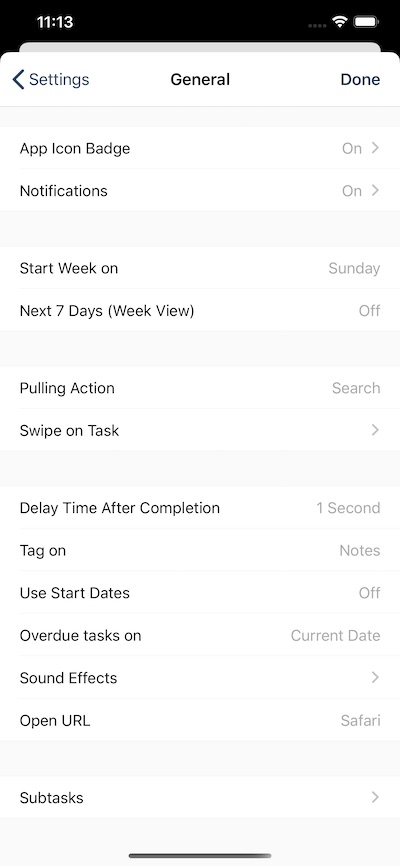 There are lots of options that enhances usage of GoodTask. Let's check these options one by one.
Automatic Preferences Sync manages all preferences to be synced between iCloud account. Check this page for details.
Type: Date
You can select between 'Simple', 'General' and 'Advanced'. Simple will keep a single date which will work as due date and alert like Reminders app. General will have due date and alert separately. Advanced will have start date, due date and alert.
App Icon Badge
You can pick a list for App Icon Badge. On that list, all the overdue tasks will be shown on App Icon Badge.

'Default' option sets number to overdue tasks. 'All Items' simply adds up everything that's shown on that list.

While using 'Default', you may 'Include' below options to add up onto overdue count.

Turning on 'iCloud Active Sync' will try to sync faster on other devices that's connected with iCloud if there are any changes.
Notifications
GoodTask uses rich interactive notifications.You may check this page for details.
Board View
Board view settings are described on this page.
Start Week on
You can select weekday to start week on. This will be used on week view and month view.
Next 7 Days
If you turn this on, week view will start from today to next 7 days. Above 'Start Week on' option will be ignored on week view.
Default View
When you select a list, you can fix a default view you want to be selected. You can also pick one per list and if there is none selected for the list, this one will be selected. If this is set to none, current view will be kept.
Other Options

Pulling Action : Pulling on tasks will Refresh or Add a new task.
Swipe Action : You may choose various actions to choose from with swipe action.
Context Menu : You can choose Quick Actions you want to see while long tapping a task.

Delay Time After Completion : When you complete a task, you may have delay time to commit before it hides. (None/1 second/3 seconds)
Tag on : Tags used on Quick Actions can be stored in title or notes.
Overdue tasks on : Overdue tasks can be shown on its due date or current date on day/week/month view.
Sound Effects : You can set details for sound effects and haptic feedback.
Open URL : Choose between 'GoodTask' and 'Safari' to open URL. Choosing Safari will let links open connected apps when it's supported.

Recurring Tasks : Option to clear notes or match alert and due date globally. You can specify these values per task if needed.
Subtasks : Options to complete/incomplete tasks and subtasks automatically when actions occur.